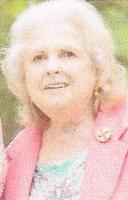 Betty Jean Meltzer
Betty Jean Meltzer
Oneida- Betty Jean Meltzer, age 88, formerly of the Hazel Carpenter Home and a long-time Florida resident passed away Thursday evening, April 13, 2017 in the Oneida Healthcare Extended Care Facility with her loving children at her side.
She was born on April 3, 1929 in Wellsville, New York a daughter of the late Claude and Eula Sholtz and was a graduate of Oneida High School.
Betty Jean was at one time married to Alden Vierow and later married Leonard Meltzer who predeceased Betty Jean on April 14, 2016.
She was a sales associate for various department stores in the area where she enjoyed setting up the window displays.
She was a fantastic cook and baker who enjoyed music and singing. Betty Jean sang in a trio on the first day of broadcasting of WSYR and could frequently be found singing to entertain the residents of local nursing homes.
Surviving are her daughter and son-in-law, Kathy (Mark) Wood of Oneida, son and daughter-in-law, Jerry (Marsha) Vierow of Sherrill, four grandchildren, Michelle Caswell of Durhamville, Morgen Vierow of Sherrill, Tracy (Todd) Merrell of Oneida and Matthew (Kalle) Wood of Fort Collins, Colo., one step daughter Sherry Meltzer of Fl., ten great-grandchildren and one sister, Twila Viscosi of Zephyrhills, Fl and several nephews.
Family and friends are invited to call on Tuesday from 12:00 noon to 1:30 p.m. at the Verona Seventh Day Baptist Church, 6775 Blackmans Corners Rd., Verona, New York. Funeral services will be held at 1:30 p.m. immediately following the calling hours in the Church with Pastor Steven James officiating. Burial will then follow in New Union Cemetery, Churchville, New York. In lieu of flowers please send donations in memory of Betty Jean to the Verona 7th Day Baptist Church or the Wounded Warrior Project in memory of Leonard Meltzer (former POW), Room 320, 370 7th Ave., NY, NY, 10001. Arrangements are with the Malecki Funeral Home Inc., Sherrill, NY. Online condolences may be sent to maleckifuneralhome.com