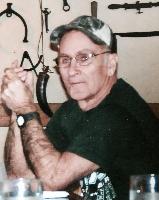 Leon J. "Metzy" Metz
Leon "Metzy" J. Metz Sr.
Oriskany Falls- Leon "Metzy" J. Metz Sr., age 70 of Oriskany Falls and formerly of Vernon passed away Monday, May 8, 2017 at the Mary Imogene Bassett Hospital in Cooperstown.
He was born on February 8, 1947 in Oneida, New York a son of Frank Hartle and Evana Williamson and was a graduate of V.V.S. Central School.
Leon worked at Henderson Johnson Construction Company of Syracuse for twenty-five years before retiring in 2011.
He was an avid hunter and fisherman who also enjoyed camping. He was an active member of the Waterville Rod and Gun Club.
Leon leaves behind his wife of 46 years, Joann (Hewitt) Metz, daughter Kelly Jo and husband Scott Gordon, son Leon Jr. "Bummer" and wife Linnette Metz and daughter Billie Jo Stevens and companion Andy Pedersen, grandchildren Ashli and husband Trevor Lyseng, Talon Vevea and companion Sarah, Tyler Vevea and companion Jessica, Janele Stevens, Brett Perry and companion Tonya, Brad Perry, Reno Metz and companion Sheyanne; and eight great-grandchildren. Also surviving are two sisters; Nancy Waldon and Robin, married to brother-in-law Jim Sigsbee. He also has six brothers, Keith "Skeeter" Strong, Brian Strong, Nate Hartle, Wayne Strong, Jody Hartle and Shane Hartle. He also leaves many other close family and friends.
Leon was predeceased by his mother Evana Hartle and brothers, Sheldon Strong and Mark Hartle.
Family and friends are invited to call on Saturday May 13, 2017 from 10:00 to 12:00 noon at the Malecki Funeral Home Inc., 23 Front Street, Vernon, NY. Mr. Metz's funeral service will be held at 12:00 (noon) immediately following calling hours at the funeral home. Burial will follow in Skinner Cemetery, Vernon Center, NY. After the burial a celebration of "Metzy's" life will continue at the Solsville Hotel from 2:00 to 5:00 p.m. Online condolences may be sent to maleckifuneralhome.com