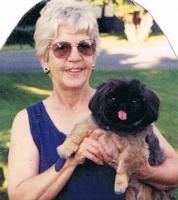 June L. Lerch
June L. (Giles) Lerch
Munnsville-June L. (Giles) Lerch, of Greene Acres Mobile Terrace died at the age of 86 on Sunday, May 14, 2017 in the Oneida Healthcare Extended Care Facility.
She was born in Sherrill, New York on June 3, 1930 a daughter of Ray and Della (Wilgus) Giles and attended Sherrill High School and was a member of the Sherrill High School Orchestra.
She had many places of employment through the years; Office Girl at Sansone's Clothing Store-VVS Cafeteria –Todd Display-North East Dairy and retired after many years with Oneida Limited Silversmiths.
Her greatest hobby was her wood crafting; many of her items that she made she gave to her friends.
She had a tremendous love of animals and had many pets.
June was a member of Plymouth Alliance Church of Sherrill.
Surviving are one daughter Karen (Lerch) Major and her companion James Graves Jr. of Oneida, one son and daughter-in-law, David and Connie Lerch of Munnsville, one grandson, Todd Hitchings and wife Andrea, three great-grandchildren, Todd Jr., Jacob and Alexis all of Oneida, two nephews Ronald of S.C. and Thomas of AZ.
She was predeceased by two sisters, Evelyn Merkling and Marie Carroll, one brother Kenneth Giles and one cousin William Merkling.
Her family would like to thank Norene L. Harris who spent many hours with June offering her help in anything she needed.
Friend are invited to call on Thursday, May 18, 2017 from 2:00 to 4:00 p.m. at the Malecki Funeral Home Inc., 464 Sherrill Rd., Sherrill. June's funeral service will be Thursday at 4:00 p.m. immediately following calling hours at the funeral Home. In memory of June please send contributions to Plymouth Alliance Church, Kinsley Street, Sherrill, NY, 13461 or Wanderer's Rest Humane Assoc., 7138 Sutherland Dr., Canastota, NY, 13032. Private burial will be in Valley View Cemetery Oneida, NY. Online condolences may be sent to maleckifuneralhome.com