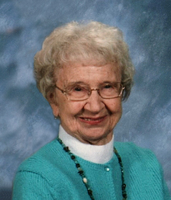 Mildred B. "Millie" Morris
Mildred B. "Millie" Morris
Oneida-Mildred B. "Millie" Morris-age 93, of Middle Road passed away peacefully Wednesday evening August 30, 2017 with her loving husband at her side.
She was born on February 12, 1924 in Peterboro, New York a daughter of the late Fay and Margaret (Davis) Brooks and was a graduate of Morrisville High School.
On June 17, 1943 Mille and Arthur G. Morris were united in marriage in Morrisville, New York and have shared this loving union of over seventy-four years together.
Prior to her retirement in 1984 Millie was a teller with the former Oneida Valley National Bank and the former Alliance Bank and served as V.V.S. Central School Treasurer for many years.
Millie was a member of Christ Church United Methodist and the church's bible study group for many years and was a member of the historic Nelson Welsh Congregational Church of Nelson, NY.
Surviving are her loving husband, Arthur "Art" Morris Sr., one son Arthur Morris Jr. of Clatskanie, Oregon., five grandchildren, Gary, Eric Jennifer, Mikhail, and Iain, nine great-grandchildren and one brother-in-law, Raymond Morris and several nieces and nephews.
Family and friends are invited to call on Sunday afternoon September 3, 2017 from 2:00 to 3:00 p.m. at Christ Church United Methodist, 417 Park Street, Sherrill. A memorial service to celebrate Millie's life will be held on Sunday at 3:00 p.m. immediately following the calling hour at the Christ Church with Rev. Robert Kolvik-Campbell officiating. Private burial will be in Peterboro Cemetery, Peterboro, NY. In Millie's memory please consider donations to Christ Church United Methodist, Nelson Welsh Congregational Church, Nelson, NY or a charity of your choice. Online condolences may be sent to maleckifuneralhome.com