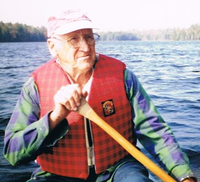 John S. Todd
John S. Todd
Verona-John S. Todd, age 95 formerly of Brown Road passed away peacefully late Saturday afternoon, September 9, 2017 in the Oneida Healthcare Extended Care Facility.
He was born on October 15, 1921 in McKeever, New York a son of the late Scudder B. and Hazel (White) Todd and was a graduate of Forestport Central School Class of 1939.
During WW II from 1943-1945 John served as a B-17 Gunner with the United States Air Force.
After returning home from the war John and Christina Tackabury were united in marriage on May 25, 1946 in the First United Methodist Church of Oneida and have shared this loving union of over seventy one years together.
Prior to his retirement from Oneida Limited in 1984 John was employed with the engineering department.
John was a past Master of the Masonic Lodge. In his spare time he enjoyed sports and was an avid New York Mets fan. He enjoyed coaching little league baseball, trips to the Adirondacks including camping and loved canoeing with his son Scott. After his retirement John enjoyed wood working and making crafts.
Surviving are his loving wife, Christina of Oneida, two daughters and two sons-in-law, Joan and Paul Marvin of Hilton, NY, Christine and Greg Barulich of Pine City, NY, and one son and daughter-in-law, Scott and Donna Todd of Little Falls, NY, seven grandchildren, Ian Todd, Jill (Michael) Gildea, Diane Spaulding and companion Andrew Dean, Todd (Amber) Marvin, Lynne (Roy) Cleveland, James (Candice) Ariglio and Ian (Lorene) Barulich, and seven great-grandchildren, Hannah Gildea, Abigail Cleveland, Alexandra Cleveland, Amelia Cleveland, Elias Cleveland, Isabella Ariglio and Helene' Barulich. John was predeceased by two sisters, Lucille Bathke and Jennette Wiatr.
In keeping with John's wishes there will be no public calling hours. A memorial service will be held on Saturday, September 23, 2017 at 12:00 (noon) at St. Peter's Lutheran Church, 4897 Old Oneida Rd., Verona, NY with Rev. Katie Yahns officiating. Burial will be in Maple Grove Cemetery, Vernon, NY. The family will receive friends at a luncheon at the church following services. In lieu of flowers donations may be sent to St. Peter's Lutheran Church. Online condolences may be sent to maleckifuneralhome.com