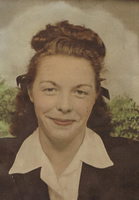 Carolyn H. Bonnell
Durhamville-Carolyn H. Bonnell, age 94, formerly of Yager Road and Union Street, Oneida, passed away early Thursday morning, September 14, 2017 in the Oneida Healthcare Extended Care Facility.
She was born on July 6, 1923 in Barneveld, New York a daughter of the late Lester and Marion (Francisco) Holt and was a graduate of Oneida High School.
On March 4, 1943 Carolyn and Floyd Bonnell were united in marriage in Utica, New York and shared this union until Mr. Bonnell's death June 18, 1987.
Prior to her retirement in 1985, Carolyn was employed in the inspection department of Oneida Limited Silversmith's. She enjoyed bowling in her spare time.
Carolyn was of the Christian Faith.
Surviving are her four daughter and their spouses, Bonnie and Lee Lucas of FL, June and David Stoddard of Durhamville, Linda and Milton Porter of Verona and Donna and Robert Phelps of Canastota, fourteen grandchildren, thirty-seven great-grandchildren, numerous great-great-grandchildren and several nieces and nephews.
Carolyn was predeceased by her parents, husband and her seven siblings, Lester Holt, Leslie Holt, Marion Locasico, Joan Dulan, Edith Brewster, Eleanor Keller and Ken Holt.
Family and friends called on Saturday, September 16, 2017 from 10:00 a.m. to 12:00 noon at the Malecki Funeral Home Inc., 464 Sherrill Rd., Sherrill, NY. Funeral services will be held on Saturday at 12:00 noon immediately following the calling hours at the funeral home. Burial will follow in Valley View Cemetery, Oneida, New York. Online condolences may be sent to Malecki funeral home.com