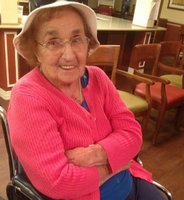 Rita S. Joslin
Blossvale- Rita S. Joslin
Rita S. Joslin of Blossvale NY formerly of Oneida NY was peacefully reunited with her beloved husband on November 23, 2017. Rita was born on June 7, 1925 in Utica NY, the middle child of Alexander B. and Regina Herman Scholl. She was united in marriage to Clarence "Josh" Joslin on August 10, 1946 at Historical Old St. John's Church, Utica NY. They shared a loving 66 year relationship until Josh's passing in December 2012.
In her early years, Rita worked for New York Telephone where she met Virginia Joslin Albin who insisted Rita meet her only brother Clarence (Josh). A match made in heaven! Soon after their marriage, they relocated to Oneida, NY.
Rita was an avid gardener who took great pride in her beautiful gardens and was a member of the Oneida Castle garden club. She was active member of St. Patrick's Parish where she was instrumental in creating and maintaining the food pantry. She also was the bookkeeper for St. Patrick's bingo, where Josh was a caller for many years. Rita enjoyed bowling and canasta with her dear friends. She was a member of the Chenango Water Club where she enjoyed water therapy together with her son Bill for over 25 years. Rita and Josh spent considerable time flipping homes while before that became a popular trend. They also enjoyed traveling to Aruba and other exotic locations with sister Ag and Walt Hooks and Josh's sister Virginia Albin. Especially in her later years, her grandchildren and great-grandchildren brought her tremendous joy. She was also a member of St. Helena's Church in Sherrill, NY.
Rita is survived by her three daughters, Marianne (Roger) Cussins of Northwood NH, Kathleen (Michael) Donegan of Oneida NY and Nancy/Dolly (Robert) Bage of Blossvale NY where she resided for the past 2 years. Two sons Michael (Maureen) Joslin of Wallingford CT and William C. Joslin of Chicopee MA. She also leaves 11 grandchildren Michelle (Ken) Wood of Hollis NH, Sarah (Rob) DeClemente of Gaithersburg MD, Kim (Evan) Scott-Donegan of Ft. Collins CO, Colleen (Pat) Salisbury of Oneida NY, Patrick Donegan of Montpelier VT, Seth and Kevin Joslin both of Newport RI, Erin (Joe Jacques) Joslin of N. Grafton, MA, Mark Joslin of Braintree MA, Jennifer (Lawrence) Tobin of Woodbridge VA and Thomas (Emily) Sorbello of Canastota NY.
She will be dearly missed by her 19 great-grandchildren. Rita was also dearly loved by her special aide Judi Cusworth. Rita is also survived by three sisters- in-law, Lois Kennedy, Hazel Pugh and Linda Gilmore.
In addition to her husband, she was pre-deceased by her sisters Agnes and Lois and her brothers Vincent and Joseph and their spouses. As well as 6 sisters-in-law.
Family and friends are invited to call on Monday, November 27, 2017 from 11:00 a.m. to 1:00 p.m. at the Malecki Funeral Home Inc., 464 Sherrill Rd., Sherrill, NY, 13461. Rita's funeral service will be held Monday at 1:00 p.m. at the funeral home immediately following calling hours. Burial will follow in St. Helena's Cemetery, Middle Road, Oneida, NY. Online condolences may be sent to maleckifuneralhome.com