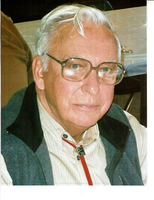 Robert M. Hesler
Robert M. Hesler
Verona-Robert M. Hesler, age 89, of Greenway-New London Road passed away peacefully Thursday, January 11, 2018, at the Oneida Healthcare Extended Care Facility surrounded by his loving family.
He was born on August 2, 1928 in Clayton, New York, son of the late Paul M. and Irene M. (McCormick) Hesler. He was baptized at Clayton's St. Mary's Church and spent five years of his childhood in Clayton, a place he often returned to.
A great lover of nature and animals, as a teenager Robert adopted and tamed a baby crow to be his pet. Robert found a great love for music singing with a Barbershop quartet and in many community musicals. Music was something he enjoyed throughout his life, the love for which he passed through generations of his family. Also something of which he was very proud was obtaining his pilot's license in his teens and flying with the civil air patrol.
In 1954 Robert enlisted with the U.S. Army where he won an award for marksmanship and served in Japan immediately following the Korean Conflict. He was honorably discharged in 1956.
On June 29, 1957 Robert and Marjorie M. Grems were united in the sacrament of matrimony and have shared that loving vow for over 60 years.
Prior to his retirement, Robert was employed with Rome Cable as an electrician. He dedicated his "retired" years at Our Lady of Good Counsel Church in Verona assisting Fr. Edmund Morelle as his jack-of-all-trades.
He was a devoted member of Our Lady of Good Counsel Church for over 57 years and a member of the St. Joseph's Society.
Robert had a great love for the outdoors and enjoyed fishing, hunting, being in nature with his family at their camp in Old Forge, and hiking with them in the Adirondacks. He enjoyed playing horseshoes at the Stanwix Heights Club, and was a member of the Verona Mills Fish and Game Club as an active member of the pistol team.
Robert was a deeply loving and caring husband, father and community member.
Surviving are his wife, Marjorie, five children and their spouses, Susan (Rick) Gifford, Pamela (Brian) Boothroyd, Robert (Deborah) Hesler, Joann (Patrick) Collins and Stephen (Stephanie) Hesler, 27 grandchildren and 26 great-grandchildren. Also surviving are three siblings Patricia Wall Barrows, Carol Hawkins, Frances Mathis and many nieces, nephews and cousins.
Robert was predeceased by his parents and siblings: Katherine Armstrong, Paul Hesler, Harold Hesler and Jeanne Richie.
Family and friends are invited to call on Sunday from 4:00 to 7:00 p.m. at the Malecki Funeral Home Inc., 23 Front Street, Vernon. A Mass of Resurrection will be celebrated on Monday, January 15, 2018 at 11:00 a.m. at Our Lady of Good Counsel Church, 5652 E. Main Street, Verona, New York, with Rev. Edmund Castronovo celebrant. Burial will follow in the Verona Cemetery. In lieu of flowers please send donations to Holy Cross Academy, 4020 Barrington Hill, Oneida, New York, 13421. Online condolences may be sent to maleckifuneralhome.com