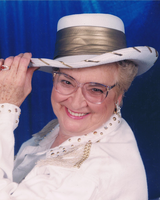 Caroline J. Winterton
Oneida Castle - Caroline J. Winterton, age 92, of Oneida Castle passed away peacefully Sunday January 28, 2018 in the Abraham Hospice Home of Utica.
She was born on January 25, 1926 in Durhamville, New York, a daughter of the late James and Bertha (Kaiser) Sullivan and was a graduate of the Durhamville School System.
Caroline married Roger W. Winterton on August 10, 1946 in Durhamville, New York and shared that loving union of twenty years together until Roger's unexpected death on August 31, 1966.
She was employed as an inspector at General Electric in Syracuse for nearly 32 years until her retirement on March 1, 1988.
Caroline enjoyed volunteering at the Senior Center in Florida where she received an award for her serving of sandwiches and baked goods to people in need. Caroline was a member of the Moose Lodge in Oneida and the Auxiliary at General Electric. She loved golf, bowling, playing cards, and testing her luck gambling. Caroline also loved spending time with nature, gardening and bird watching.
Survivors include: her four children, Robert (Linda) Winterton of Florida, Linda (David) Van Dreason of Sherrill, Nancy (Michael) Potacazala of Oneida Castle, and Paul (Martha) Winterton of Camilus; her 12 grandchildren; her 12 great-grandchildren; her brother, Joseph Sullivan of Dunnellon, FL; her sister, Doris Ann Maciag of Durhamville; and several nieces and nephews. In addition to her parents and husband, Caroline was predeceased by her two brothers, Richard and Edward Sullivan.
Family and Friends are invited to call on Tuesday, January 30, 2018 from 10:30 a.m. to 11:30 a.m. at the Malecki Funeral Home Inc., 464 Sherrill Rd., Sherrill, NY. Caroline's funeral service will be at 11:30 a.m. immediately following the calling hour at the funeral home. Spring burial will be in St. Francis Cemetery, Durhamville, New York. A mass and gathering to celebrate Caroline's life will be planned with a tentative date of June 16, 2018. Donations in Caroline's name may be made out to The Abraham House, 1203 Kemble Street, Utica, NY, 13501, or Hospice and Palliative Care, 4277 Middle Settlement Road, New Hartford, NY, 13413. Online condolences may be made by visiting www.maleckifuneralhome.com.