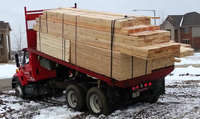 Peter J. Kitchen
Vernon Center-Peter J. Kitchen, age 68, of Lyons Road passed away early Tuesday morning February 27, 2018 in SUNY Upstate Hospital with his loved ones by his side.
He was born on January 26, 1950 in Oneida, New York a son of the late James and Helen (Havener) Kitchen and was a graduate of VVS Central School.
Peter was an independent cattle trucker, dairy farmer for many years and for the past 16 years was a truck driver for McDonough Hardwood Ltd. of Vernon Center.
In his spare time Peter enjoyed riding his Harley Davidson motorcycle and old western shows.
Surviving are his partner Kathy Caraher of Vernon Center, brothers, step brothers, sisters and many nieces and nephews.
Peter was predeceased by his parents, three brothers and – sisters.
Family and friends are invited to call on Saturday March 3, 2018 from 12:00 noon to 3:00 p.m. at the Malecki Funeral Home Inc., 23 Front Street, Vernon, NY. A memorial service will be held at 3:00 p.m. immediately following calling hours at the funeral home. Spring burial will be in Sunset Cemetery, Clinton, NY. Online condolences may be sent to maleckifuneralhome.com