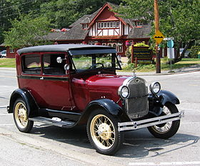 Ronald E. Lenhart
Vernon Center- Ronald Edward Lenhart, age 80, passed away peacefully on Monday, March 12, 2018, surrounded by his loving wife and family at his home in Vernon Center, NY.
Ron was born on March 3, 1938 in Williamsport, Pennsylvania to Girton K. Lenhart and Rose Lenhart Miller (Palmer). As a young child he lived with his family in Vernon and Vernon Center NY and attended schools in the Vernon-Verona-Sherrill Central School District. After high school he married the love of his life, Janet Collins in 1959, and worked numerous jobs to support his growing family. From 1966 to 1977, Ron and Janet owned and operated Lenhart's Grocery in Vernon Center. There they sold groceries and gas to their beloved community while Ron serviced automobiles in his garage. In 1977 they sold their business and Ron built a new business, Lenhart's Garage, where he was an automobile mechanic with his sons until his retirement in 2003. He also ran Lenhart's Auto Sales and a snowplowing business until 2017. Ron worked hard to make his community a better place, and it was his nature to help a neighbor, a friend, or a family member in need. He was a founding member and the first active chief of the Vernon Center Volunteer Fire Department. He served as a trustee of the former Maple Park Home in Vernon Center. He was a long time member and board member of the Mohican Model A Ford Club. Ron spent many happy hours restoring antique cars and toys. He loved spending time with his family and friends, never shied from hard work, and always enjoyed a good joke or prank.
Ronald was preceded in death by his parents and step father, Curt Miller, his father and mother-in-law, Elliott and Ruby Collins, his brothers-in-law, Roy Wagner and Robert Barnes, and his son-in-law, Donald Arntsen. He is survived by his sister, Rita Wagner, a step brother, Richard Miller, a step sister, Marlene Wright, and a sister-in-law, Beatrice Barnes; his wife of 58 years and their children: Patricia (John) Irion, David (Lynn) Lenhart, Susan Arntsen, Christine (Bill Kampf) Thorp, Kelley Lenhart and Matthew (Kathie) Lenhart; the families of his beloved thirteen grandchildren and seventeen great-grandchildren; and several nieces, nephews, and friends.
Funeral services will be held on Saturday, March 17, 2018 at 11:00 am at the Plymouth
Alliance Church,169 Kinsley St., Sherrill, NY with the Rev. Kurt Johnson officiating. The family will greet friends from 3:00 - 7:00 pm on Friday, March 16, 2018 at the Malecki Funeral Home, 23 Front St., Vernon, NY.
The Lenhart Family would like to extend a special thanks to the medical teams of Dr. John Wight, Dr. Sultana Razia, Nascentia Health, and Hospice and Palliative Care for their compassion and care.
In lieu of flowers, donations can be made to the Vernon Center Volunteer Fire Department or Hospice and Palliative Care.