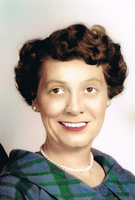 Ann E. Nichols
Ann E. Nichols, age 98, a thirty-five year resident of Greene and more recently of
Noyes Manor passed away Wednesday morning April 4, 2018 in the Oneida Healthcare Extended Care Facility.
She was born on May 26, 1919 in Carbondale, PA a daughter of the late Arthur and Jane (Richards) Emmett and was a graduate of Oneonta High School.
On April 12, 1941 Ann and Charles A. Nichols were united in marriage in Carbondale Methodist Church. They shared forty-four years together until Mr. Nichols death on August 25, 1985.
Ann worked in the accounting department of Breese's Department Store in Oneonta before retiring in 1943 to care for her family.
She enjoyed playing cards with her family and friends and enjoyed cooking and reading. She was a member of embroidery and stitching groups.
Ann was a member of the Greene Congregational Church from 1973-2007 before moving to Sherrill.
Surviving are her two daughters, Jane Hicks of Vernon Center, and Laura (George) Naholnik of Johnson City, a sister, Carol Peknik of Watertown, son-in-law, James Buck of Whitesboro, seven grandchildren, Kristin (Perry) Tooker, Karen (Richard) Wands, Steven (Jo) Hicks, James Buck, Amy, Charles, and Raymond Naholnik, and eight great-grandchildren, Alex, Elizabeth, Derick, Melody, Blin, Porter, Una, and Devrin, and several nieces and nephews including Jill (Paul) Thomas of Wampsville.
Ann was predeceased by her brother Ellsworth N. Emmett, sisters Gladys E. McFee, and Ardis J. Humphrey, daughter Gladys R. Buck, and son-in-law Charles E. Hicks, Jr.
A memorial service will be held on May 26, 2018 (Ann's birthday) at 10:00am at the Verona Presbyterian Church, corner of Rock and E. Main Street, Verona, NY. Arrangements are with the Malecki Funeral Home Inc., 464 Sherrill Rd., Sherrill, NY. Online condolences may be sent to maleckifuneralhome.com