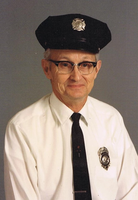 Frederick J. Langford
Vernon-Frederick J. Langford, the oldest man in Vernon passed away peacefully Sunday afternoon April 8, 2018 at the age of 103 at his home with his loving daughters at his bedside.
He was born on June 21, 1914 in Clinton, New York a son of the late Clark and Ruth Langford and was a graduate of the Clinton School System.
On June 22, 1935 Fred married the love of his life, the former Margret Chandler in North Rose, New York and shared that loving vow of over sixty-five years together until her death on February 6, 2001.
Fred grew up in an era when, family, job community, church, honesty and integrity were the most important things in a persons' life and that was the manner that Fred lived his life.
From October 29, 1943 until his retirement on December 31, 1979 Fred was an installer, repairman and lineman for the former Vernon Phone Company and brought "the party" line into your homes.
For over sixty-five years he was a member of the Vernon Fire Department and into his 90's could be seen with his fire police vest and flashlight directing traffic in front of the fire station when needed.
He was a faithful member of the Vernon United Methodist Church. After retirement Fred never stayed still he was always on the move. He could be found cleaning snow off the back roof in the winter, cleaning the gutters in the fall, mowing the lawn with his John Deere and helping out the "older folks in his neighborhood that just needed a hand".
He could be found many days at the Nothing Fancy Café enjoying a breakfast, lunch or dinner and enjoying the company of the waitresses that served him a hot meal and a smile.
Surviving are his three daughters Joyce (John) McMinn of Verona, Shirley Ludwikowski of Sherrill and Sharon Sprague of Vernon, four grandchildren, Cathy (Mike) Misaszek, Mike McGranaghan, Anthony (Megan) Ludwikowski and John (Valerie) Ludwikowski, step-grandchild Cindy Bednar of Cal., great-grandchildren, Matthew Misiaszek, Nicholas Misiaszek, Rebecca Torre, Sean McGranaghan,Olivia McGranaghan, Brianna Ludwikowski, Alyssa Ludwikowski, Justin Ludwikowski, Alex Ludwikowski and Victoria Ludwikowski, two step-grandchildren, Daniel Bednar and Kaitlyn Bednar of Cal., one step-great-great-grandchild, Arianna Bednar of Cal. and several nieces and nephews.
Fred was predeceased by his wife Margaret on February 6, 2001, infant son John Frederick Langford on June 19, 1942 and his two brothers, Robert and Art Langford.
The family would like to thank Fred's care givers, Judy Nellebach, Judy Johnston, Michelle Macknair, Cathy Misiaszek and Bethany Redmond for their compassionate care shown to Fred during his final months.
Family and friends are invited to call on Thursday, April 12, 2018 from 3:00 to 7:00 p.m. at the Malecki Funeral Home Inc., 23 Front Street, Vernon, NY. Mr. Langford's funeral service will be held on Friday at 11:00 a.m.at the Vernon United Methodist Church, 5230 W. Seneca Street, Vernon, New York. Spring burial will be in Vernon Center Cemetery, Vernon Center, NY. In lieu of flowers donations may be made to the Vernon Vol. Fire Dept., or the Vernon United Methodist Church. Online condolences may be sent to maleckifuneralhome.com