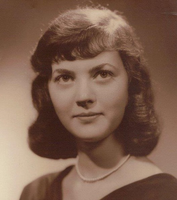 Lois B. Dunn
Lois B. Dunn, 88, of Sherrill, N.Y., passed away September 12, 2017, while a resident at the Oneida Healthcare Extended Care Facility. Lois was born July 27, 1929, to Walter M. Ball and Amelia Helen (Davison) Ball at Hornell, New York.
Lois graduated from Hornell High School where she was an artist for the school paper and had fond memories of being senior ball queen. Following graduation she moved to Sherrill, NY, where she met many people that became life long friends. She was employed as an operator at the Sherrill Telephone Company and later while raising her family, she worked at a clothing store in Sherrill where she took great joy in designing the store window.
Lois married James E. Dunn on September 26, 1953, at St. Helena's Church in Sherrill, N.Y., and they were happily married for 61 years before James passing in 2015.
Lois enjoyed spending time with her family and friends and had a great appreciation for home decorating and collecting antiques. She was a member of the Gethsemane Episcopal Church where she was blessed to have many special friends.
Lois is survived by her children, Elizabeth Dunn of Denver, Colo., Christopher (Pam) Dunn of Sherrill, Matthew (Judy) Dunn of Syracuse, Mary Dunn (Steve Ochenkoski) of Danvers, Mass, and Sarah (James) Dam, of Sherrill; grandchildren, Jacob and Jordan Dunn, and James, Nathaniel, and Luke Dam.
The family would like to extend sincere appreciation to all the people that assisted in the care of their mother at her home and at the Extended Care Facility.
Mrs. Dunn's funeral service will be held on Monday September 25th at 11 am at Gethsemane Episcopal Church, 320 Park St., Sherrill with the Rev. Beverly Messenger-Harris officiating. The service will be followed by a reception at the church where friends are invited to gather. Friends are invited and may call from 10 a.m. to 11a.m. prior to the service at the church.
Memorials may be made to Parkinson's Research (online at https://www.michaeljfox.org/ ) or Sherrill Kenwood Community Chest, PO Box 14, Sherrill, NY 13461-0014.