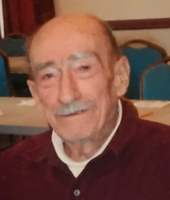 Lawrence A. "Lolly" Seifert
Oneida-Lawrence "Lolly" Seifert, born June 24, 1932 passed away October 23, 2018 with his loving family at his side.
He married Lillian R. (Cook) Seifert. Lolly was the son of Clarence and Evelyn Seifert.
He was a Korean War Veteran serving in the Army from 1951-1954.
Lolly was a life member of the Verona VFW #6811, Durhamville Veterans Club, Stanwick's Men's Club, Owls Club and also a member of the Korean War Veterans of Sylvan Beach. Lolly was a long standing member of the Durhamville Trail Riders and the Polish Racing Team. He was a previous member of the Mug Club and Tamarack Club.
Surviving are his wife Lillian R. Seifert, his four children, Larry and Karen Seifert, Beverly and Larry Munz, Julie "Boomer" Seifert, James Seifert and Nancy McCormick, 9 grandchildren, and 21 great-grandchildren. Also surviving are one brother George Seifert and one sister Laura Wells. He is predeceased by four sisters and three brothers.
Family and friends are invited to call on Friday October 26, 2018 from 3:00 to 7:00 p.m. at the Malecki Funeral Home Inc., 23 Front Street, Vernon, New York. Funeral service will be held Friday at 7:00 p.m. at the funeral home immediately following calling hours. Burial will be Saturday October 27, 2018 at 10:00 a.m. in Maple Grove Cemetery, Vernon, New York. In lieu of flowers donations may be sent the Durhamville Fire Dept. or MVHS Dialysis Center, Faxton Campus. Online condolences may be sent to maleckifuneralhome.com