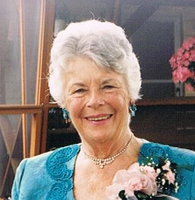 Elizabeth A. "Betty" Metzger
Vernon-Elizabeth (Betty) Ann Metzger, age 94, passed away peacefully Tuesday evening November 13, 2018 in the Sitrin Healthcare Center.
Betty was born on June 8, 1924 in Utica, New York a daughter of the late Roy E. and Mary (Morath) Studor and was raised in McKeever, New York.
She attended high school at St. Francis de Sales and from there she attended Potsdam Normal School and Utica School of Commerce.
She married Donald J. Metzger Sr. on September 2, 1944 at St. Mary's of the Snows Church in Otter Lake, New York where she was an organist.
She and her husband enjoyed winters at Pompano Beach, FL and summers at their home on the St. Lawrence River in Alex Bay, New York.
Her greatest memories came from the times spent with her family. While at the healthcare center Betty enjoyed her once a month musical date listening to the sounds of Frank Cannistra.
Surviving are her three sons and their spouses, Donald J. Jr. and Kathryn Metzger of Chaumont, Robert and Deborah Metzger, Mark and Ulrika Metzger, one daughter and her spouse, Susan and Claude Lewin; all of Vernon. Also surviving are five grandchildren and their spouses, Thomas W. Lewin of Sherrill, Kelly Sue Lewin and Robert Hughes of Oneida, Megan E. Pugh and husband Brett of Vernon, Nicholas Mark Metzger of Manhattan, James Bradley Johnson and wife Nicole of E. Syracuse, six great-grandchildren, Andrew, David, Matthew, Elora, Malcolm and Carter.
The family extends a heartfelt thank you to the whole Sitrin Community, especially the Mulberry House and all the special people who we will always cherish, especially, Amanda, Mary, Craig and Briana. "Their compassion and care were truly amazing".
Family and friends are invited to attend a Mass of Christian Burial on Saturday, November 17, 2018 at 10:00 a.m. at Holy Family Church, 4343 Peterboro Street, Vernon, NY. The family will greet visitors at the conclusion of Mass at the church. Friends are invited to a gathering at Aqua Vino Restaurant; 16 Harbor Lock Rd., Utica, NY, 13502 following the burial in St. Joseph's Cemetery, Champlin Ave., Utica, NY. In lieu of flowers donations may be sent to the Vernon Vol. Fire Dept., PO Box 773, Vernon, NY, 13476. Online condolences may be sent to maleckifuneralhome.com