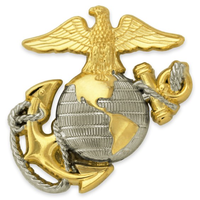 Donald E. Talbot
Sherrill-Donald E. Talbot, age 90, of E. Hamilton Ave. passed away peacefully Wednesday November 14, 2018 in the Oneida Healthcare Center with his family at his side.
He was born on August 5, 1928 in Wiley town, New York a son of the late W. Hess and Daisy (Benjamin) Talbot and attended Cooperstown Schools.
Don proudly served his country with the United States Marines Corp from 1945-1949 and again served his country from 1950-1951 with the U.S. Marine Corp where he was awarded the World War II Victory Medal, Asiatic Pacific Medal, Good Conduct Medal and China Service Medal.
On June 12, 1949 Don and Dorothea Bauer were united in marriage at St. James Lutheran Church of Queens, New York and shard that loving union until Dorothea's death on April 2, 1992.
In 1958 Don started the Talbot plumbing business and served Sherrill and surrounding areas with his expertise of plumbing till his retirement.
He enjoyed being outside in nature, reading, gardening, horses and his work. In his later years he enjoyed traveling to Texas to visit his son and family where he got to see the sites of Texas and sharing time with his family.
Surviving are his two sons, Michael (Judi) Talbot of Bastrop, TX, Greg Talbot of Sherrill, daughter-in-law Kim Talbot of Sherrill, two brothers Stewart (Judy) Talbot of Rome and Carl (Lorie) Talbot of Oriskany Falls, eight grandchildren and three great-grandchildren and several nieces, nephews and many friends.
Don was predeceased by his parents, wife Dorothea and son Warren, sister Dorothea Ryan.
Family and friends are invited to attend a funeral service with military honors on Monday November 19, 2018 at 11:00 a.m. at the Malecki Funeral Home Inc., 464 Sherrill Rd., Sherrill, NY. Private burial will be in Valley View Cemetery, Oneida, NY. In lieu of flowers please send donations in Don's memory to St. John's Evangelical Lutheran Church, 502 W. Chestnut Street, Rome, NY, 13440. Online condolences may be sent to maleckifuneralhome.com