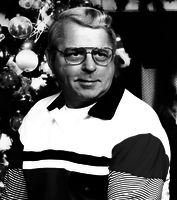 James C. "Jim" Nazel
Vernon-James C. "Jim" Nazel, age 79, of State Rt. 5 passed away peacefully Friday afternoon November 30, 2018 in the comfort of his home surrounded by his loving and caring family.
He was born on August 12, 1939 in Vernon, New York a son of the late Stanley and Casimera (Partyka) Nazel.
On November 15, 1958 Jim and Patricia Martin were united in marriage and shared that loving vow of thirty-five years together until Patricia's death on December 12, 1993.
Prior to his retirement in 1994 Jim was employed as a truck driver with New Penn Trucking Company. He was previously a mechanic for fifteen years with Interstate Freight and prior to that was a truck driver for Oneida Limited Silversmiths.
In his spare time he enjoyed hunting, fishing, bowling, golf, wood working and playing games with his daughter.
Surviving are his children Deborah A. Thomas and son-in-law David of Vernon, James C. Nazel Jr. of Ohio and Michael A. Nazel of Morrisville, his beloved grandchildren, Jason Tallini and Sarah Tallini-Stopchick and her husband Andrew, Nathan, Mellissa, Tyler, Jameson, Brandon and Ashleigh Nazel, Jesse, Mikey, Jennifer, Kasey, Tiffany and James Nazel. Sixteen great-grandchildren, sister Marlene Jones, sister-in-law and brother-in-law, Jeanette and Ed Faldzinski, sister-in-law Norma Bailey, brother-in-law, Al Martin and sister-in-law Wendy Nazel, as well as several nieces and nephews and canine companion Sophie.
Jim was predeceased by his parents, Stanley and Casimera Nazel, his wife Patricia M. Nazel, son Mark Nazel, grandchildren, Tricia and Heather Nazel, brother Stanley Nazel and sister Charlotte Gerrer.
In keeping with Jim's wishes there will be no calling hours or funeral services. Online condolences may be sent to maleckifuneralhome.com