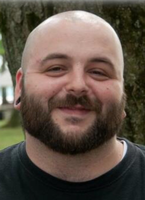 Richard J. "Rich, Dick, Dickie" Havener
Baldwinsville-Richard J. "Rich, Dick, Dickie" Havener, 37, of Baldwinsville passed away surrounded by his family on December 21, 2018 at SUNY Upstate after a twelve-day fight for his life due to an undiagnosed cardiac electrical abnormality. He was born August 13, 1981 in Oneida, New York, the son of Richard J. Havener, Jr. and Paulette Havener. He attended V.V.S. Schools and spent most of his life in Sherrill. He tried his hand at a few different jobs while teaching himself computer science and applications and for the last several years was employed as an Information Technology Technician at Aspen Dental's Syracuse corporate office.
Surviving are his girlfriend of five years, Teri Richey; his mother, Paulette; his brothers Jeremy and Paul; a sister, Anna and nephew Jude. He is also survived by many aunts, uncles and cousins. He was predeceased by his father, Richard J. Havener, Jr., all of his grandparents and his beloved dog, Frankie.
Among other things, Dickie was well known for his quick wit, his no nonsense approach to all of his dealings and his warm heart. He enjoyed any opportunity he had to visit with his family and comforted everyone with his presence. He was fiercely protective of his loved ones, had incredible integrity and always looked out for the little guy. He shared a very special relationship with his younger brother Paul and always ensured Paul's special needs were met. He was well loved by Teri's four children. He enjoyed gaming with a group of online friends for over 12 years known as The Rob Liefeld Fan Club. He also enjoyed drawing, comics, music, all kinds of movies and most of all, making people laugh. He adored computers and technology and could always be counted on to save the day by those who didn't.
The family will receive friends on Friday, December 28, 2018 from 5:00 to 8:00 p.m. at the Malecki Funeral Home Inc., 464 Sherrill Rd., Sherrill, NY. Online condolences may be sent to maleckifuneralhome.com