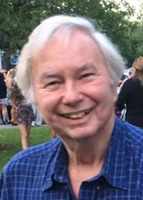 Scott F. Evans
Scott F. Evans, 78, passed away Tuesday, January 15, 2019 at home peacefully alongside his family after a courageous four year battle with cancer.
Scott was born on June 12, 1940, in Oneida, New York, the son of Clarence and Alice Evans, who predeceased him in 1980 and 1995, respectively.
He is survived by his faithful and loving wife Joanne Campagna Evans, who together would have celebrated their 57th wedding anniversary on May 12. He leaves two loving daughters, Yvette Evans of Oneida, NY and Stephanie Tryon with husband Ron of Elmira, NY. Six grandchildren, Nicholas Dittler of Canandaigua, Marissa Cerritos with her husband Eddie of Pine Grove Mills, PA, Alex Williamson with fiancé Courtney Dale, Michael, Laura, and Joshua Tryon-all of Elmira, New York.
He also is survived by his brother Peter Evans with wife Mildred of Solos, Maine, Brother-in-law Michael Campagna with wife Linda of Horseheads, NY, sister-in-law Marcia Rose of Placerville, California, step sisters-in-law, Sharon (Cole) Duerr of Rohnert Park, California, Sandra Lundgren of Lindley, NY and Debbie (Brian) Ward of Elmira NY, along with nieces, nephews, cousins, friends and extended church family.
Scott graduated from Vernon Verona Sherrill High School in 1958. He was employed with Rome Strip Steel for eight years and worked for Lockheed Aircraft in California. He later relocated to Elmira, NY and was employed by the Hilliard Corporation for 30 years. After his retirement, Scott and Joanne returned to Oneida, feeling called to assist with the re-opening of Oneida Full Gospel Assembly, the church where they married years ago. Scott was heavily involved and served on the board for 16 years. He enjoyed caring for his home and property, and was often found outside tending to his land or tinkering in his barn. Scott had a wide range of interests but his favorites included reading, cars, trains, aviation, and music. Scott was proud of his family and loved them deeply. He had a heart for people. Scott strove to encourage others to seek the Lord for His will and guidance for their lives as he grew to appreciate all that the Lord had done for him in his lifetime. "Let not your hearts be troubled. Believe in God; believe also in me. In my Father's house are many rooms. If it were not so, would I have told you that I go to prepare a place for you? And if I go and prepare a place for you, I will come again and will take you to myself, that where I am you may be also." John 14:1-3
Calling hours will be held at Oneida Full Gospel Assembly, 350 Maple Street, Oneida, NY on Saturday, January 19, 2019 from 1-3 PM with a memorial service following at 3 pm. Pastor Adnan Tadros will be officiating. Interment will be held later with the Malecki Funeral home assisting the family. In lieu of flowers, please consider a contribution to Oneida Full Gospel Assembly in memory of Scott.
Scott's family would like to thank Dr. Keith W. Parker of Elmira for his compassionate care and friendship over the past several years. A special thank you to Pastor Adnan Tadros and his wife Sissy for their tremendous love & care. Thank you also to the staff at Hospice and Palliative Care for their support and kindness shown to Scott during his difficult time.