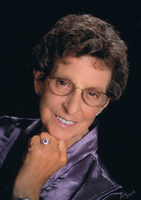 Arlene V. Kogut
Vernon-Arlene V. Kogut, age 81, a long time Vernon resident and everyone's "Aunt Arlene" passed away peacefully Thursday morning January 17, 2019 in St. Elizabeth's Medical Center with her family at her side.
She was born on April 4, 1937 in Vernon, New York a daughter of the late Merton and Pearl (Durant) Yaddaw and was a graduate of Vernon Verona Sherrill High School.
On June 14, 1958 Arlene and Peter T. Kogut were united in marriage in St. Catherine's Church of Vernon and shared that loving union until Peter's death on February 2, 1997.
Arlene worked for General Electric for eight years before becoming an office worker for Oneida Limited Silversmiths and spent twenty-nine years before retirement.
She was a member of Holy Family Church of Vernon, the Hospice Journey Together Group, the Singing Hills Group and Vernon Verona Seniors Group where she enjoyed traveling on trips with the group. She also enjoyed dancing, gardening and was a lifetime member of the Fritz's Polka Band Club.
Surviving are brother-in-law Robert Kogut and wife Rose of Westmoreland, many special Nieces and Nephews and her friend Don Marcouiller of Prospect. Her beloved extended family, Sam and Diane Masi of New Hartford, Niece, Shannon (Kogut) and James Haggerty of Westmoreland, her adopted grandchildren, (Erica Masi, Emily & Josh Koelle and daughter Lucianna, Dominic Masi, Kyle Masi, Quinnlin Haggerty and "her partner in mischief" Gavin Haggerty.
Arlene was predeceased by husband Peter in 1997, daughters Dawn Kogut in 1974 and Cindy (Kogut) Masi in 1983, brothers, Giles Yaddaw, Gerald Yaddow, Wayne Yaddaw, Valance Yaddaw, sisters Eulalia Isles, Eunice Krumback, Shirley VanSlyke, Gwendolyn Yaddaw and Evelyn Ortman.
Family and friends are invited to call on Tuesday January 22, 2019 from 4:00-6:00 p.m. at the Malecki Funeral Home Inc., 23 Front Street, Vernon, NY. A Mass of Christian burial will be celebrated on Wednesday January 23, 2019 at 11:00 a.m. at Holy Family Church, 4343 Peterboro Street, Vernon, NY with a luncheon to follow. Spring burial will be in St. Helena's Cemetery, Oneida NY. In lieu of flowers donations may be sent to Mothers Against Drunk Driving, PO Box 838, Oswego, NY, 13126 or the Cystic Fibrosis Foundation Inc., 2507 James Street #106, Syracuse, NY, 13211. Online condolences may be sent to Maleckifuneralhome.com