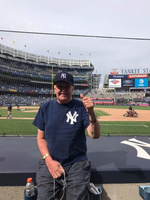 David E. Stedman
Sherrill- David E. Stedman, age 70 formerly of Taberg, Rome, Sherrill, and most recently of Boston, MA, passed away Tuesday, January 22, 2019 at his son's home in Westport, CT.
Dave was born on June 5, 1948 in Rome, New York, a son of the late James Edward Stedman and Florence Margaret Stedman and was a 1966 graduate of Rome Free Academy.
Dave was employed for four decades at Oneida Limited, holding roles too numerous to mention during his tenure.
When not at work, Dave could be found writing music on the front porch with his guitar, playing out in a number of bands, rooting for the Yankees (and ribbing any Red Sox fans within earshot), cooking hot pepper stew, beating everyone at Pitch, and most recently, bragging to all who would listen about his three granddaughters.
Dave is survived by his son Brian Stedman and his wife, Keri, and granddaughters Kassia, Avery & Stella; brothers Robert Stedman, Richard Stedman, and sister Colonel Debra Stedman, as well as numerous nieces and nephews.
Family and friends are invited to call on Saturday, February 2, 2019, from 12pm to 2pm at the Malecki Funeral Home Inc., 464 Sherrill Rd., Sherrill, NY. Spring burial will be in Maple Hill Cemetery, Taberg, New York. Online condolences may be sent to maleckifuneralhome.com