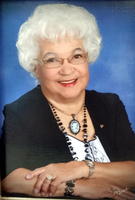 Mabelle L. "Dollie" Sprague
Sherrill-Mrs. Mabelle Katherine Lewis Sprague, affectionately known as Dollie, passed away on Sunday, January 27, 2019 at the Somerset Senior Living and Memory Care Facility in San Jose, California after a long illness. Born in Schenevus, NY, in 1929, to the late Howard and Amy Lewis, she attended Sherrill High School, graduating in 1947. In 1949, she married her loving husband, Stanley E. Sprague and together they had two children, Sharon and Calvin. She was predeceased by Stanley in 1994.
Mabelle spent most of her earlier life in Sherrill, NY, working in the Production Department of Oneida Ltd after high school graduation. She was a member of the Christ Church United Methodist and also attended the Plymouth Alliance Church in Sherrill. After marrying and having her children, she was a Sunday School teacher, as well as a leader and mentor to the local Brownie, Girl and Cub Scout troops. From 1962–1968, many patrons will remember that she owned and operated The Village Toggery, a women's clothing store on Seneca Street, also in Sherrill. She always loved fashion and the shop was a good way to immerse herself in her passion. Upon closing the store, she and Stanley built a home in Vernon, NY and Mabelle became employed by Utica Mutual Insurance later called Utica National Insurance in Utica, NY where she became the Supervisor of Credit and Collections.
After the death of her husband, Mabelle moved to Eustis, FL to care for her ailing mother in 1995. While there she became an active member of the First United Methodist Church and freely volunteered years of her time to the local Food Bank, always desiring to share in the blessings she had been given. At her retirement community of Country Club Manor she was always involved with the Crafter-nooners and the Women's Club. She was known for her love of traveling and she visited all 50 states and at least 19 foreign countries. She was never afraid to be daring and even parasailed once while in her early 80's.
Mabelle led a beautiful and full life. She was the hostess of many Thanksgiving dinners and Christmas parties, and was an accomplished seamstress, fiber artist, painter, and cook. As a child she played the flute and piano. As an adult, with her love of people, her home was always open and ready to receive guests.
Mabelle was a loyal friend, a treasured relative to all of her family members, and above all a devoted and loving wife and mother who will be dearly missed. She was an angel on Earth who lived her life with dignity, kindness, grace, joy, and always with a smile from her pure heart.
She is survived by her daughter, Sharon Sprague Woolsey and partner Rick Shroyer of San Jose, CA, and her son, Calvin Sprague and wife Pamela Marggi Sprague of Westmoreland, NY. She also leaves her beloved grandson, David Cuccaro and wife Maya Matlack Cuccaro of Newark, DE, and beloved granddaughter, Angela Cuccaro Meyer-Pflug and husband Albert Meyer-Pflug of Denville, NJ, and her great grandchildren Peter, Markus, and Rachel Meyer-Pflug In addition to being predeceased by her husband, she was also predeceased by her parents, her brother George Lewis in infancy, her brother, Ernest Lewis in 2012, brother-in-law, Gordon H Sprague in 2018, and sister-in-law, Valarae Sprague also in 2018. She will be missed by brother-in-law, Donald Sprague, sister-in-law, Shirley Sprague Maxfield, sister-in-law, Mrs. Gordon (Doris) Sprague, several nieces and nephews, many friends, and a special beau, Emil Ranallo.
Mabelle and her family are forever grateful and wish to thank the directors and the wonderful staff at Somerset for their outstanding and compassionate care of her during her year and a half as a patient.
She will be joining her family's section in the Maple Grove Cemetery, Route 5, Vernon, NY.
There will be no calling hours, but a celebration of life will be held on Saturday, June 1, 2019 from 1-5 PM at the Sherrill American Legion where Mabelle and Stanley held their wedding reception 70 years ago. Please consider a gift to St. Jude's Hospital or the Alzheimer's Organization in her honor.