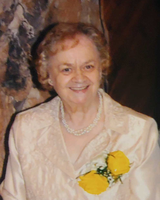 Madeleine F. Mollenhauer
Verona-Madeleine F. Mollenhauer, age 84 of Eastwood Drive passed away unexpectedly Friday afternoon, February 1, 2019 in St. Elizabeth's Medical Center.
Madeleine was born on February 14, 1934 in Frenchville, ME, a daughter of the late Arthur and Caroline (Dionne) Fongemie. She was a graduate of the Frenchville Schools and received her teaching degree in mathematics from Mount St. Mary's College of New Hampshire.
After graduation Madeleine taught mathematics before going to work in 1956 as a computer programmer with Pratt & Whitney Aircraft where she met her husband Clark D. Mollenhauer. The couple married on August 9, 1958 in St. Francis Church of New Britain, CT and has shared that vow sixty years together.
Madeleine then took on the role of Mother and enjoyed raising her family, quilting, knitting, sewing, making jewelry and cooking. After her children were grown and out of the house she worked for Price Chopper for ten years and then Walmart for 10 years. She was a faithful member of the congregation of Our Lady of Good Counsel Church of Verona.
Surviving are her husband Clark, her six children, John, Carol, Rev. Arthur, Marie, Susanne and Charles, eleven grandchildren, one great-grandson, three siblings Norma, Viola and Roger, as well as several nieces and nephews.
Family and friends are invited to call on Tuesday, February 5, 2019 from 3:00 to 6:00 p.m. at the Malecki Funeral Home Inc., 23 Front Street, Vernon. A Mass of Christian Burial will be celebrated on Wednesday February 6, 2019 at 10:30 a.m. at Our Lady of Good Counsel Church, 5652 E. Main Street, Verona, NY with Madeleine's son, Rev. Arthur Mollenhauer and Rev. Edmund Castronovo celebrants. Burial will follow in Verona Cemetery, Verona, NY. In lieu of flowers, donations in memory off Madeleine may be sent to Holy Cross Academy, 4020 Barrington Hill, Oneida, NY, 13421. Online condolences may be sent to maleckifuneralhome.com