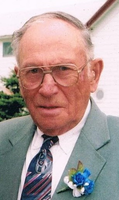 Richard H. LaGoy
Vernon-Richard H. LaGoy-age 96, of Sconodoa Street passed away Sunday afternoon, March 10, 2019 in the Oneida Healthcare Center.
Dick was born on November 30, 1922 in Dannemora, New York a son of the late Henry and Eloise (LeFreniore) LaGoy and was educated in the Dannemora local schools.
On December 6, 1974 Dick and Rose Widrig were united in marriage in Vernon, New York and have shared that loving vow of over forty-three years together.
Prior to his retirement in 1985 he was employed as a supervisor with the NYS Thruway Authority.
Dick was an outdoorsman who like hunting and fishing in his spare time. He was a deacon and trustee of the Beacon Light Baptist Church of Verona
Surviving are his children, Richard H. III (Tracy) LaGoy, Richard (Terry) LaGoy, Michael Balcom, Renee (Dave) Royce and Christina (Lynn Curtis) Jean and many grandchildren, great grandchildren and several nieces and nephews.
Dick was predeceased by his wife Rosie on August 18, 2018.
Family and friends are invited to call on Friday, March 15, 2019 from 3:00 to 6:00 p.m. at the Malecki Funeral Home Inc., 23 Front Street, Vernon, NY. A memorial service will be held at 6:00 p.m. at the funeral home immediately following the callings hour with Rev. Ricky Fuller officiating. Following services the family will greet friends at the Vernon Fire Dept. 5233 W. Seneca Street, Vernon, NY. Burial will be at a later date in Glenwood Cemetery, Oneida, NY. Online condolences may be sent to maleckifuneralhome.com