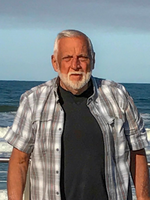 Wesley E. "Wes" Wendt
Hamilton, NY (formerly of Verona, NY) age 71, passed away peacefully in the warmth and sunshine of Daytona Beach, Florida on March 11, 2019 in Halifax Hospital, with his loving family by his side.
Wes was a successful local entrepreneur, real estate businessman and a steadfast and dedicated pillar in his community. Although he began small with an ice cream stand in Verona (Custard's Last Stand), Wes's dreams were big as he went on to own multiple businesses including the Mason Jar (Vernon), Dibbles Inn (Vernon), Wendt University Inn (Hamilton), and White Eagle Lodge and Conference Center (Lake Moraine, Hamilton), to name a few.
Wesley is survived by his wife Tammy "Brown Girl", his five children; Melody (Joe "Antipasto"), Wesley Jr. (Tammy), Candice (Chris), Zachary (Jessica), and Cydnee (Nick), and eight grandchildren; Ryan (Mary), Tyler (Sam), Taylor, Jack, Logan, Trevor, Torri, and Nova.
Adopted as a child, Wes was a self-made man who worked tirelessly to build his enterprise into the success it is today. Always thinking of others, he used his experiences from his meager beginnings to support other entrepreneurs in the community, doing business with only local companies from car dealerships, to lumberyards, to hardware stores. He always remained loyal and local. Even non-business owners knew they could turn to Wes in times of need for he forever had a hand to lend, advice to share, and a smile to spare. From his many employees to his even more numerous friends, he touched the lives of so many. Wes was a member of multiple local legions. He had a love for NASCAR and enjoyed attending the Daytona 500 every year since 1969. He also had an impressive collection of antique and vintage cars. Wes was an avid lover of CHEVY vehicles and could often be seen parked in his CHEVY truck at several of his properties, people-watching and catching a quick cat nap.
Wes was a man who was larger than life, with a smile that warmed the heart and a heart so big it took care of many of those around him in both big and little ways. His kindness was far-reaching. He will be missed, but never forgotten. "Happy Trails, until we meet again"!
The calling hours will be held Monday, March 18, 2019 beginning at 11:00am until 3:00 pm at the Appley Center, Lake Moraine Rd, Hamilton NY 13346. Family and friends are invited to call and take part in the celebration of life immediately following. In lieu of flowers, donations can be sent to Madison Fire Dept. P.O Box 72, Madison, NY 13402, or Hamilton Fire Dept. 121 Lebanon St., Hamilton, NY 13346, or SOMAC Ambulance 86 Lebanon St., Hamilton, NY 13346, in memory of Wesley E. Wendt Sr.