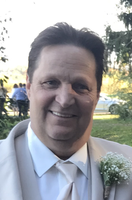 David E. Meyers
Vernon Center-David E. Meyers, age 57 of Norton Road passed away unexpectedly Wednesday, March 13, 2019 at his home.
He was born on November 26, 1961 in Orange Park, Fl. a son of the late Harry E. and Patricia A. (Parker) Meyers and attended the Oneida schools and later received his certification as an air conditioning specialist.
On June 17, 1995 Dave and Michaelle V. Hutchinson were united in marriage in the Oneida Baptist Church and have shared this vow of over twenty-three years together.
Dave followed in the family business as a talented mechanic and owner of Meyers Service Center in Sherrill, later moving to the village of Vernon, where he was a mechanic for over 35 years.
He was a member of the Sons of The American Legion Post 169 of Oneida.
Dave enjoyed fishing, gardening, cribbage, playing bingo, watching football and NASCAR. Dave also enjoyed going to concerts and the music of Elton John, Alice Cooper, and Lou Reed. One of his favorite past times was sitting on the deck with his family enjoying the landscape.
Surviving are his wife, Michaelle V. Meyers, two daughters, Julie (Jaryd) Marshall, and Jennifer Meyers, one brother Tom (Cindy) Meyers, two sisters Suzanne (Craig) Marshall and Lisa (Pat Parker) Mennig, mother-in-law, Phyllis Godlewski, father-in-law, Glenn Thatcher, three sisters-in-law, Mâi Lin Thatcher, Alice (Dan) Convertino and Rebecca (Jeremy) Morey, one brother-in-law, Glenn D II (Holly) Thatcher, several nieces, nephews, cousins, aunts, uncles and his two canine companions, Snickers and Luna.
David was predeceased by his father Harry E. Meyers in 1996 and his mother Patricia A. Meyers in 2011.
Family and friends are invited to call on Tuesday, March 19, 2019 from 4:00 to 7:00 p.m. at the Malecki Funeral Home Inc., 23 Front Street, Vernon, NY. A funeral service will be held at 7:00 p.m. at the funeral home immediately following calling hours. Spring burial will be in Oneida Castle Cemetery, Oneida Castle, NY. Online condolences may be sent to maleckifuneralhome.com