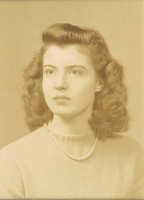 Gwen M. Murphy
Oneida-Gwen Murphy, age 92, formerly of 43 State Street, Oneida and most recently of the Presbyterian Home, New Hartford where she has been a resident since February 2015, died May 15, 2019.
Born in Norwich on August 27, 1926 and grew up in Utica, she was the only child of Charles D. and Mae (Loucks) Custer. She moved to Sherrill in 1942 and graduated from Sherrill High School in 1944. She was employed in the Payroll Department of Oneida Limited after high school. She married John E. Murphy of Verona on January 26, 1946. Mr. Murphy died on January 16, 1998.
She is a descendant of General George Armstrong Custer.
Her husband, John, a local contractor, built their first home at 324 Allen Street in 1946 where they lived until moving to Oneida in 1958.
Gwen was a member of D.A.R. and was a communicant of Plymouth Alliance Church while living in Sherrill.
Surviving are two daughters, Helen Ranson of Sherrill, Vicki Pincombe of Raleigh, NC; two sons, Roger (Cindy), and Jeff (Susie) of Oneida, nine grandchildren, Lori (Jeff) Stoffle, Durhamville, Scott (Sherri) Schafer of Atlanta, GA, Daniel Schafer, Arlington, VA, Valerie Murphy, Tampa, FL, Jennifer (Rob) Robertson, Sherrill, Ashley Murphy, Los Angeles, CA, Lauren Pincombe, Raleigh, NC and Julie Pincombe, Sacramento, CA; two step-grandchildren, Brittany and Kyle DeMauro, Oneida, five great-grandchildren, Evan and Joey Stoffle, Leland and Arianna Robertson, and Clare Schafer.
She was predeceased by a granddaughter, Jeanna Murphy, April 21, 1984. "Grandma loved her animals and sweets, but most of all she loved her family and she would do anything for them. She will be missed by all."
A private funeral service will be held at the convenience of the immediate family. There are no public hours of visitation. Interment will be in Oneida Castle Cemetery, Oneida Castle, NY. Contributions in her memory may be made to an animal shelter of your choice. Online condolences may be sent to maleckifuneralhome.com