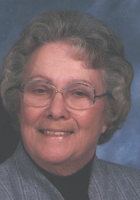 Helen L. Armstrong
Verona-Helen L. Armstrong, age 90, a longtime Verona resident passed away peacefully late Thursday evening December 29, 2022 in the Eastern Star Home after a very brief stay.
She was born on May 1, 1932 in Pitcairn, New York a daughter of the late Loyal and Rena (Farr) Manchester and was a graduate of the Gouverneur Schools.
On June 30, 1955 Helen and Milton A. "Milt" Armstrong were united in marriage in Gouverneur, New York and shared that loving vow of over sixty-four years together until Milton's death on February 3, 2020.
Helen's early work career included being a telephone operator with the Bell Phone Company and later worked in the cafeteria of J. D. George School in Verona after many years as a full time homemaker caring for her family.
She was very active for over forty years with the Beacon Light Baptist Church where she served as the piano player, Sunday school teacher and treasurer. More recently she was a member of the Heritage Baptist Church. In her spare time she enjoyed knitting and baked the best peanut butter cookies.
Surviving are her four children and their spouses, Brenda Dean of Boonville, Jo (John) Blair of VA, Michelle (Kevin) Chrobak of Clinton and Michael (Sheila) Armstrong of Endicott, nine grandchildren, seven great-grandchildren and a niece Nancy Reza.
Helen was predeceased by her parents; husband Milt, sister Hilda Elswick and nephew Thomas Elswick.
Family and friends are invited to call on Wednesday January 4, 2023 from 4:00 to 6:00 p.m. at the Malecki Funeral Home Inc., 23 Front Street, Vernon, NY. Funeral services will be held at 6:00 p.m. immediately following calling hours at the funeral home. Burial will be in New Union Cemetery, Verona, NY. In lieu of flowers donations in memory of Helen may be sent to the Salvation Army, 14 Clinton Place, Utica, NY, 13501. Online condolences may be sent to maleckifuneralhome.com.