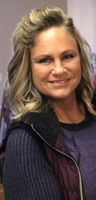 Cynthia M. White
Baldwinsville-Cynthia "Cindy" M. (Boice) White, 50, of Baldwinsville, NY, passed away on February 28, 2023. Cindy was born on October 23, 1972, to her loving parents Margaret Durant and Richard Boice in Vernon, NY.
Cindy was a V.V.S. (Vernon Verona-Sherrill) High School graduate of 1990 where she was a competitive cheerleader, the class president and a beloved homecoming prom queen. After Cindy graduated from V.V.S. High School, she perused higher education to become a Licensed Practical Nurse, where she kickstarted a 20-year nursing career and undeniably positively impacted many lives along the way.
In 1990, Cindy met John White. They quickly fell in love and shared their vows in 1992 before having 2 wonderful daughters together: Ashley (White) Lajoie, 30 and Noelle White, 27. Cindy had a deep passion for animals and gardening but above all, enjoyed time spent with her granddaughter, Madi, whom she referred to as the "beat of her heart" the most. She was a caring, passionate, and courageous daughter, mother, grandmother, and friend to many who would always "hope you dance".
Cindy is predeceased by her bother Timothy Boice (2015). She is survived by her mother Margaret Durant, father Richard Boice, stepmother Nancy Austin, previous husband and the father of her children John White, daughters Ashley Lajoie (Krissy Lajoie) and Noelle White, granddaughter Madilyn "Madi Girl" Lajoie and her loyal puppy- companion, Milo.
Calling hours will be held on Wednesday March 8, 2023 from 4:00pm to 7:00pm at Malecki Funeral Home: 23 Front Street, Vernon, NY 13476. A full service will follow on Thursday March 9, 2023 at 11:00am at Holy Family Catholic Church: 4343 Peterboro St, Vernon, NY 13476.
In lieu of flowers, the family requests donations be made to WomenHeart: The National Coalition for Women with Heart Disease; An organization devoted to educating, advocating, and supporting women living with or at risk of heart disease. Link: https://www.womenheart.org/our-story/